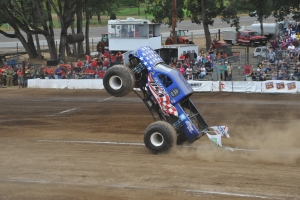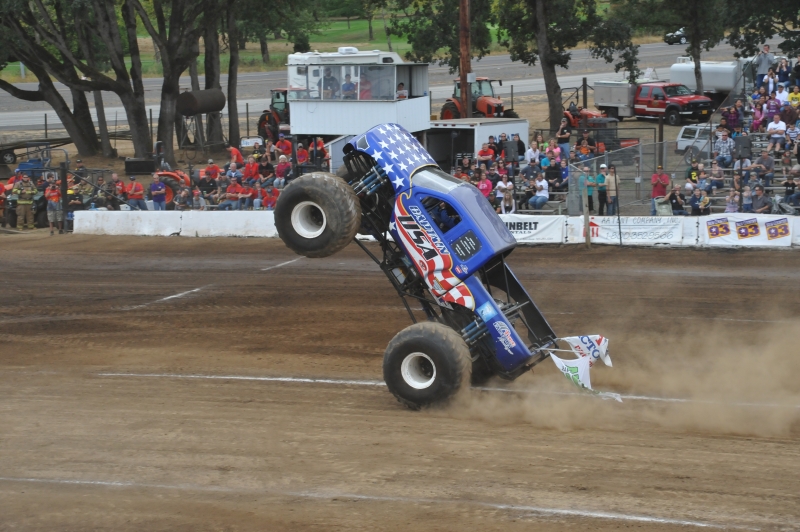 Captain USA
Driven by Jeff Bainter
Sponsored by AWI Diesel Truck Repair
Jeff Bainter is celebrating his 40th year driving monster trucks and is running a limited show schedule with his CAPTAIN USA monster truck this year. Years of running on the monster truck circuit as an independent handling all the chores of building, hauling marketing and driving have taken its toll on Jeff. Now 60 years old, the job Jeff loves so much has become more difficult but his passion for competition and entertaining the fans still burns strong.
One of Jeff's favorite events has always been the Sublimity Harvest Festival, "the harvest festival is one of the most well organized, fun outdoor event any monster truck driver could compete at, I consider the whole community family and l am very excited to be a part of the this special 50th anniversary show." Jeff will also be bringing his original monster jeep to the harvest festival this year to give rides to the fans. "Bring the family and come take a exciting ride in a piece of monster truck history at the 50th anniversary of the Sublimity Harvest Festival this September!"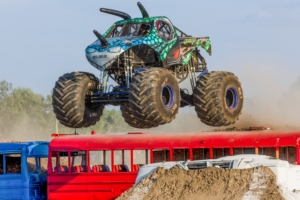 Jurassic Attack
Driven by Dalton Widner
Sponsored by EZ Timber
It didn't take long for Dalton Widner to make his mark on Monster Jam. The Knoxville, Tennessee native scored a racing win in just his second attempt, beating Weston Anderson and Grave Digger in the final round in Worcester, Massachusetts in February 2022.
Widner got interested in Monster Jam by watching the sport as a preschooler. He came from a drag racing family and often left football practice as a teenager to assist a local team with trucks. He attended University of North Carolina-Charlotte and played offensive line for the 49ers football squad before choosing to join Team Throttle Monster in 2022.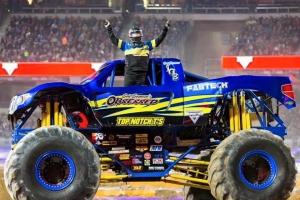 Obsessed
Driven by Eric Swanson
Sponsored by Jr's Freight Services
When Eric was 11 years old, he got to experience what it was like to drive his dad's monster truck, Obsession. Everyone was impressed that someone so young could maneuver such a big machine skillfully. For his 12th birthday he was given a trophy kart. They had it painted and wrapped to match dads. He is the only trophy truck to have cleared three cars!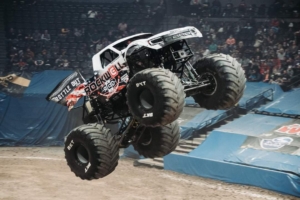 Rockwell R.E.D.
Driven by TBA
Sponsored by Hart Strong
Rockwell R.E.D. debuted in July 2020, for Team Throttle Monster. In 2022, Rockwell R.E.D. competed in the Monster Jam Arena Championship Series West with Travis Mowery driving. During the series, Mowery and the truck won a racing competition in Oklahoma City, along with two donut championships in Tacoma and Fargo, as well as a freestyle championship.
They would also grab 2 overall event wins in the first two Tucson events. He would finish 4th. The truck is also scheduled to compete in several events as part of Arena Championship Series East with Mowery driving the truck in Macon and Zach Jensen driving in Worcester.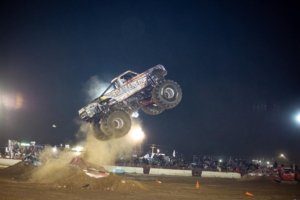 Scattered
Driven by TBA
Sponsored by Helena Agri-Enterprises
Scattered is a 1972 Chevrolet C-10 monster truck owned and driven by Lee Plato. It currently serves as the teammate to Skull Krusher, which is driven by Lee's son, Shane. Scattered was originally created in 2021, after the Plato family acquired the previous McGruff chassis from Rod Wood. The truck later made its debut at the Monster Truck Fall Nationals in Santa Rosa, California.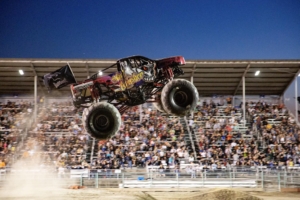 Skull Krusher
Driven by Shane Plato
Sponsored by Peterson Trucks
Skull Krusher, is based on a mini truck of the same name and currently tours with Straight Up Racing alongside its teammate, Scattered. Skull Krusher was originally created in 2019, when the Plato family purchased the previous Prowler chassis from Predator Racing. The truck would make its official debut two years later on July 11, at Santa Maria Raceway in Santa Maria, California with Shane behind the wheel.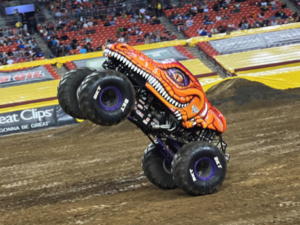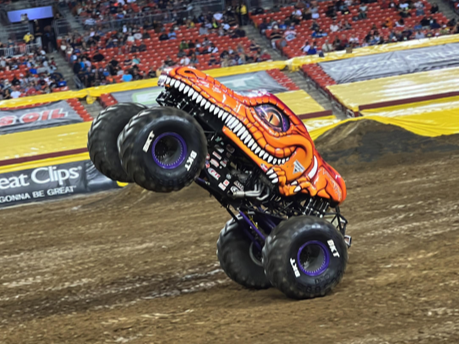 Velociraptor
Driven by David Olfert
Sponsored by DSP Connections
Velociraptor is a monster truck built and created by Team Throttle Monster, out of Utah, debuting at the Monster Jam World Finals XXI pit party, on May 21, 2022. The truck made its competition debut at Foxborough on June 4, 2022. Velociraptor is the 2022 Monster Jam 2-Wheel Skills Champion and the 2023 Des Moines Monster Jam Overall Event Winner.
David Olfert, of Shaw, Oregon, started driving with 2Xtreme Racing in 2019. He won his first overall championship with Bounty Hunter and is the 2022 Monster Jam Arena 2-Wheel Skills winner. He has also driven Wrecking Machine and Kamikaze.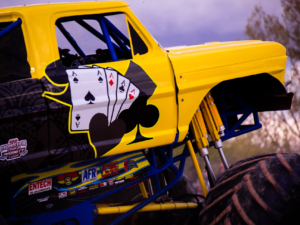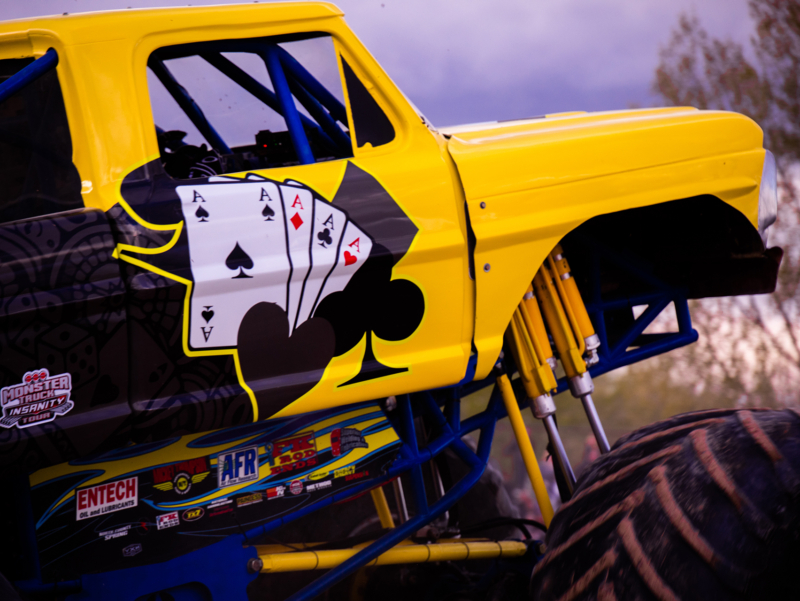 Wild Card
Driven by Dawson Rayas
Sponsored by CoEnergy Propane
It all comes back full circle as Dawson Rayas finally gets to compete in his hometown show, the Sublimity Harvest Festival, a moment he's been dreaming of his entire life. Rayas grew up in Sublimity and got his start in monster trucks right here at the festival about six years ago. He helped on the track crew setting up cones and painting lines for the pulling competitions before asking the Basl twins if he could crew for KING KRUNCH and NITRO HORNET.
Rayas says from that moment he was hooked, "The sites, sounds and the feeling you get on a Saturday night with the monster trucks is unlike anything in this world." The last five years he's traveled across the US and Canada for multiple monster truck teams. He's been a crew chief for some of the best in the industry and been able to tour as a driver. This year he's been given the opportunity of a lifetime, thanks to the Obsession Racing Team, to finally be able to do the one show that has been missing from the last five years of this crazy dream, the Sublimity Harvest Festival. "This year is going to be off the hook, I'm ready to burn it down! I can't wait to show my hometown what this kid's got! This one's for you Sublimity!"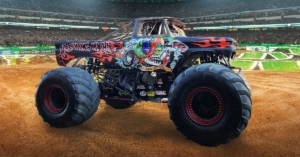 Wrecking Machine
Driven by TBD
Sponsored by HMS Commercial Services
The early 1960s body style allows retro fans to take a liking to Wrecking Machine as it makes its mark on the competition. Wrecking Machine is a 1961 Chevrolet K-10 monster truck owned by Team Throttle Monster.
Wrecking Machine first debuted in 2019. It began competing in Monster Jam in 2021 and made its first stadium event appearance in El Paso that year.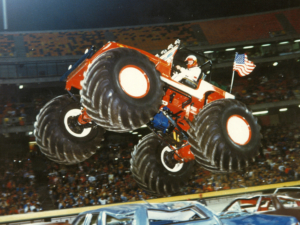 Hot Stuff
Ride Jeep
Sponsored by Willamette Valley Excavating
Built in 1986 by Jeff Bainter in his shop in Yakima Washington, this monster jeep was based on a Jeep CJ-7 body that Jeff split down the middle and widened 15" and sitting over a custom built frame and suspension to make room for the 66" flotation tires. Jeff and the big red jeep competed under the name of "HOTSTUFF" on the monster truck circuit from 1986-1989, winning many national events against the best trucks in the country. Jeff and his original monster jeep HOTSTUFF were inducted into the International Monster Truck Hall of Fame in 2017.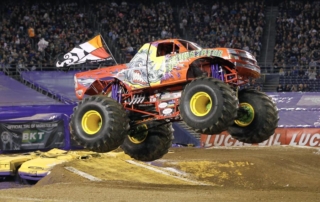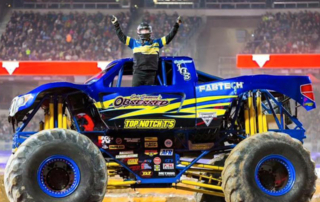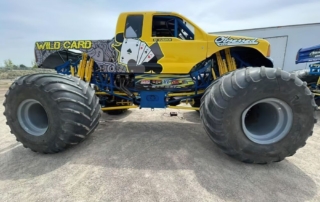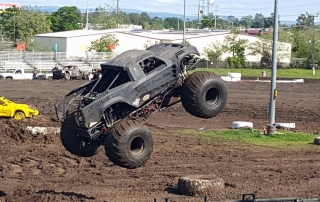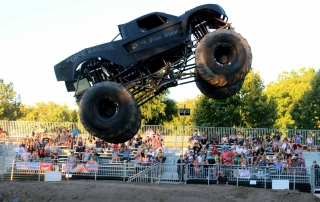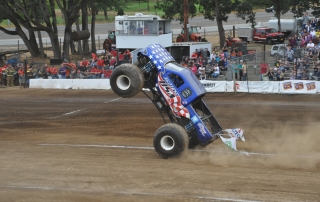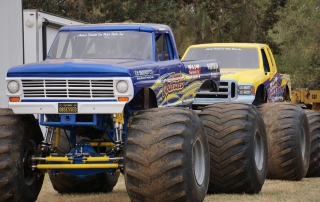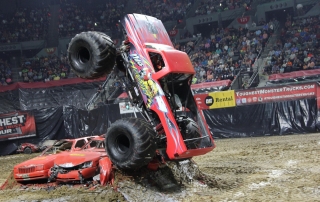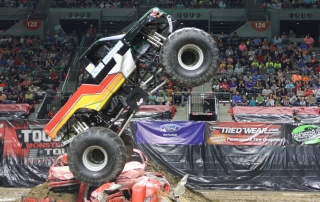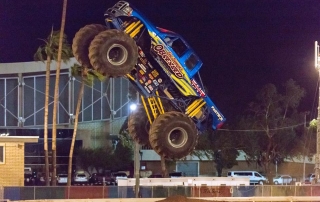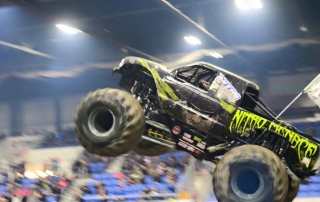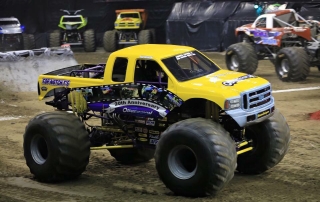 Monster Trucks brought to you by: